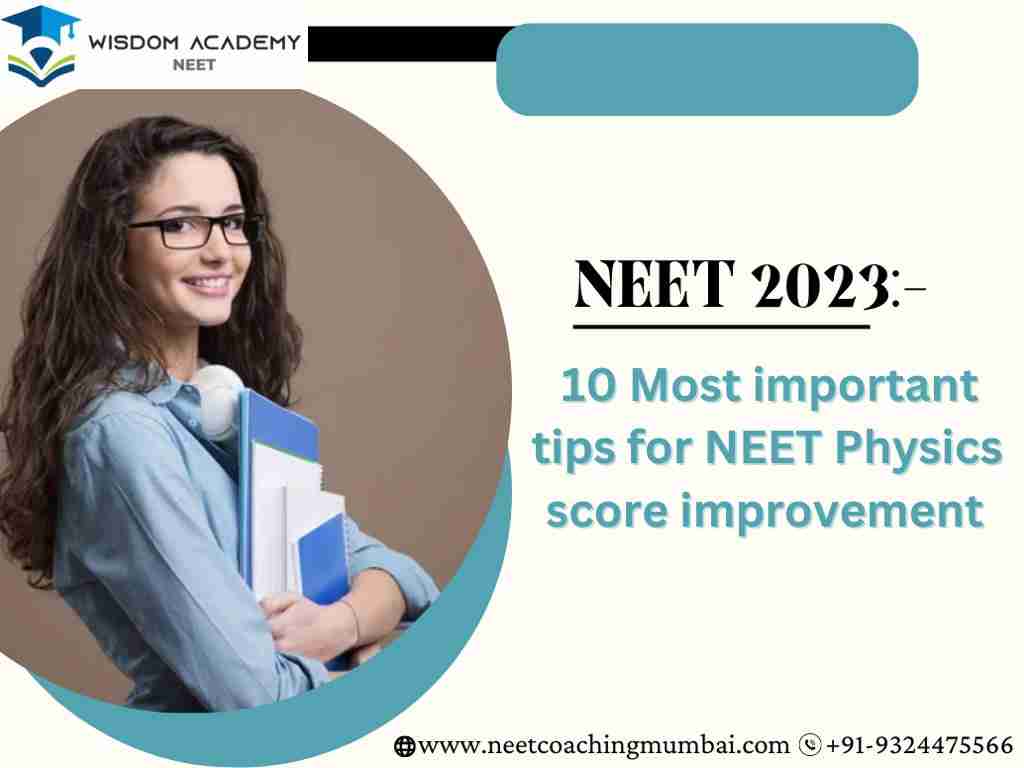 NEET
Wisdom Academy
August 12, 2023
0 Comments
The National Eligibility Entrance Test (NEET) holds the key to your dream of pursuing a medical or dental career in India. Among the three core subjects – Physics, Chemistry, and Biology – Physics often poses a significant challenge for many NEET aspirants.
Physics holds immense significance within the NEET framework. This subject forms an essential pillar, shaping the comprehension of fundamental principles governing the natural world.
Physics not only elucidates the mechanics of motion, energy, and forces but also underpins crucial concepts within the biological and medical realms. NEET, a gateway to medical and dental education, underscores the relevance of Physics as it provides a lens through which the intricate workings of the human body can be understood.
However, with the right strategies and dedicated efforts, you can substantially enhance your Physics scores. In this blog post, we will provide you with ten invaluable tips that can help you excel in NEET 2023 Physics, paving the way for your success.
Grasp the Fundamentals
The bedrock of Physics lies in understanding the fundamental concepts. Before delving into intricate problems, ensure you have a firm grip on basic principles. Strengthen your comprehension of topics like motion, force, energy, and laws of motion, as these concepts are the building blocks for more complex theories.
Mastery of Mathematics
Physics and mathematics go hand in hand. Regular practice with numerical problems can elevate your mathematical skills. Embrace problem-solving as an opportunity to refine your calculation abilities, enabling you to approach Physics questions with confidence.
Craft a Detailed Schedule
Devote specific time slots in your study schedule exclusively to Physics. Consistency is the cornerstone of progress. Distribute your study sessions evenly throughout the week to prevent last-minute cramming and allow your mind to assimilate and process the information effectively.
Embrace Trusted Study Resources: Opt for credible study materials and recommended textbooks tailored for NEET preparation. Reputable reference books, online resources, and video lectures can provide insights into intricate concepts and introduce diverse problem-solving techniques.
Prioritize Conceptual Clarity
Rather than relying on rote memorization, prioritize a deep understanding of the underlying concepts. When you comprehend the rationale behind a principle, its application across different scenarios becomes more intuitive.
Consistent Practice is Key
Physics thrives on consistent practice. Regularly tackle problems from diverse sources, including past NEET papers. This practice not only acquaints you with question patterns but also sharpens your ability to dissect and solve problems.
Harness the Power of Sample Papers
As the NEET exam draws near, immerse yourself in solving a multitude of sample papers and mock tests. This exercise mirrors the real exam setting, enabling you to master time management. Subsequently, assess your performance to identify weaker areas that necessitate further attention.
Visualization Aids Comprehension
Physics often deals with abstract concepts that can be perplexing. Harness visual aids such as diagrams, graphs, and animations to visualize intricate theories. This visual approach can significantly amplify your comprehension and retention capabilities.
Embrace Inquisitiveness
When obstacles arise, don't hesitate to seek clarification. Engage in study groups, explore online forums, or solicit guidance from educators and mentors. Timely resolution of doubts prevents minor misunderstandings from snowballing into major roadblocks.
Nurture Wellness and Manage Stress
Effective studying thrives on a sound body and mind. Prioritize sufficient sleep, uphold a balanced diet, and engage in regular physical activity. Equip yourself with relaxation techniques like deep breathing and meditation to manage the stress associated with exams.
Embarking on the journey to conquer NEET Physics may seem daunting, but by adopting a strategic approach and unwavering commitment, you can triumph over the challenges and elevate your scores.
Remember to lay a solid foundation by mastering basic concepts, engaging in consistent practice, and tapping into reliable study resources. One of the best ways is by joining the Wisdom Academy. They provide the necessary guidance to excel in the NEET exams.
As you prepare ardently for NEET 2023, understand that progress is a gradual process. Maintain your patience and persistence, refraining from being disheartened by setbacks.
Armed with these ten invaluable tips, you will be well-equipped to tackle Physics questions confidently and secure a competitive score in the forthcoming NEET examination.