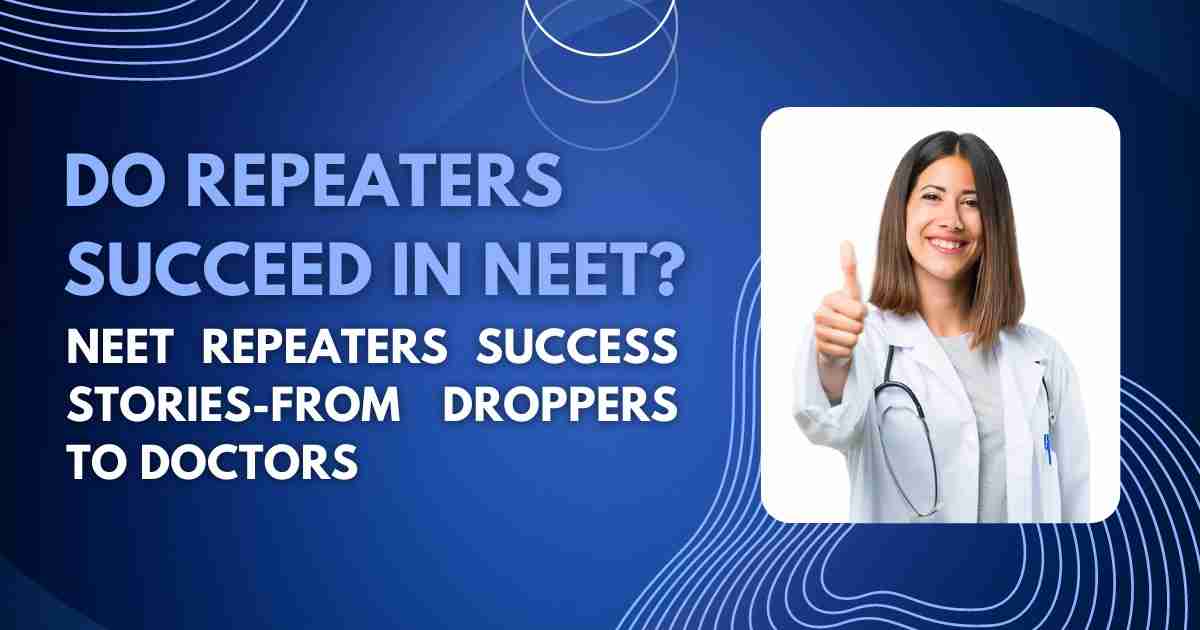 NEET
Wisdom Academy
July 9, 2023
0 Comments
The National Eligibility cum Entrance Test (NEET) is a highly competitive examination that serves as a gateway for aspiring medical students in India. Many students, despite their best efforts, may not achieve their desired results in their first attempt. However, the journey doesn't end there. In this blog, we will explore the inspiring success stories of NEET repeaters—students who decided to give the exam another shot. We will delve into the challenges they faced, the strategies they employed, and the valuable lessons they learned on their journey from being droppers to ultimately becoming successful doctors. These stories serve as a beacon of hope and motivation for those considering repeating the NEET examination.
Overcoming Initial Disappointment
NEET repeaters often face the challenge of overcoming initial disappointment and self-doubt after not achieving their desired results on their first attempt. However, instead of giving up, these individuals use their disappointment as fuel to work harder and smarter. They understand that failure is not final, but rather an opportunity for growth and improvement. With a positive mindset and a determined spirit, they embark on their journey as repeaters, ready to conquer the challenges that lie ahead.
Analyzing Previous Attempts and Identifying Weaknesses
One of the key steps repeaters take is thoroughly analyzing their performance in their previous attempt. They identify the areas where they fell short and the topics that require additional attention. This introspection helps them understand their weaknesses and provides a clear roadmap for focused preparation. By identifying the gaps in their knowledge, they can devise effective strategies to bridge those gaps and strengthen their overall understanding of the subjects.
Developing a Strategic Study Plan
NEET repeaters understand the importance of a well-structured study plan. They create a realistic timetable that allocates sufficient time for each subject, topic, and revision. They prioritize topics based on their weightage in the examination and allocate more time to areas where they struggled previously. Moreover, they utilize the experience gained from their previous attempt to streamline their study plan, focusing on effective learning techniques, such as solving previous years' question papers and taking mock tests.
Seeking Guidance and Support
NEET repeaters recognize the value of seeking guidance and support from experienced mentors and teachers. They enroll in coaching institutes or seek the assistance of private tutors who can provide expert guidance and comprehensive study materials. These mentors offer valuable insights into the exam pattern, provide effective study strategies, and clarify doubts. Additionally, repeaters form study groups or join online communities where they can interact with fellow repeaters, share knowledge, discuss challenging topics, and provide mutual support.
Perseverance and Self-Motivation
The journey of NEET repeaters demands unwavering perseverance and self-motivation. These individuals are determined to turn their dreams into reality and do not allow setbacks to dampen their spirits. They stay focused, maintain a positive attitude, and remind themselves of their ultimate goal—to become successful doctors. They understand that success may not come overnight and that consistent effort and dedication are key. Through self-motivation and a resilient mindset, repeaters navigate the challenges of the NEET journey, ensuring they are well-prepared for the examination and crack the exam with flying colors.
Conclusion
NEET repeaters exemplify the spirit of resilience and determination. Their success stories serve as an inspiration for those who may have faced initial disappointment in their first attempt. By analyzing their previous performance, developing strategic study plans, seeking guidance, and staying motivated, NEET repeaters have proven that it is indeed possible to succeed in the face of adversity. Their stories remind us that with perseverance, dedication, and a positive mindset, dreams can be transformed into reality. For those considering repeating the NEET examination, these success stories offer valuable insights and motivation to embark on their journey from being droppers to becoming accomplished doctors.