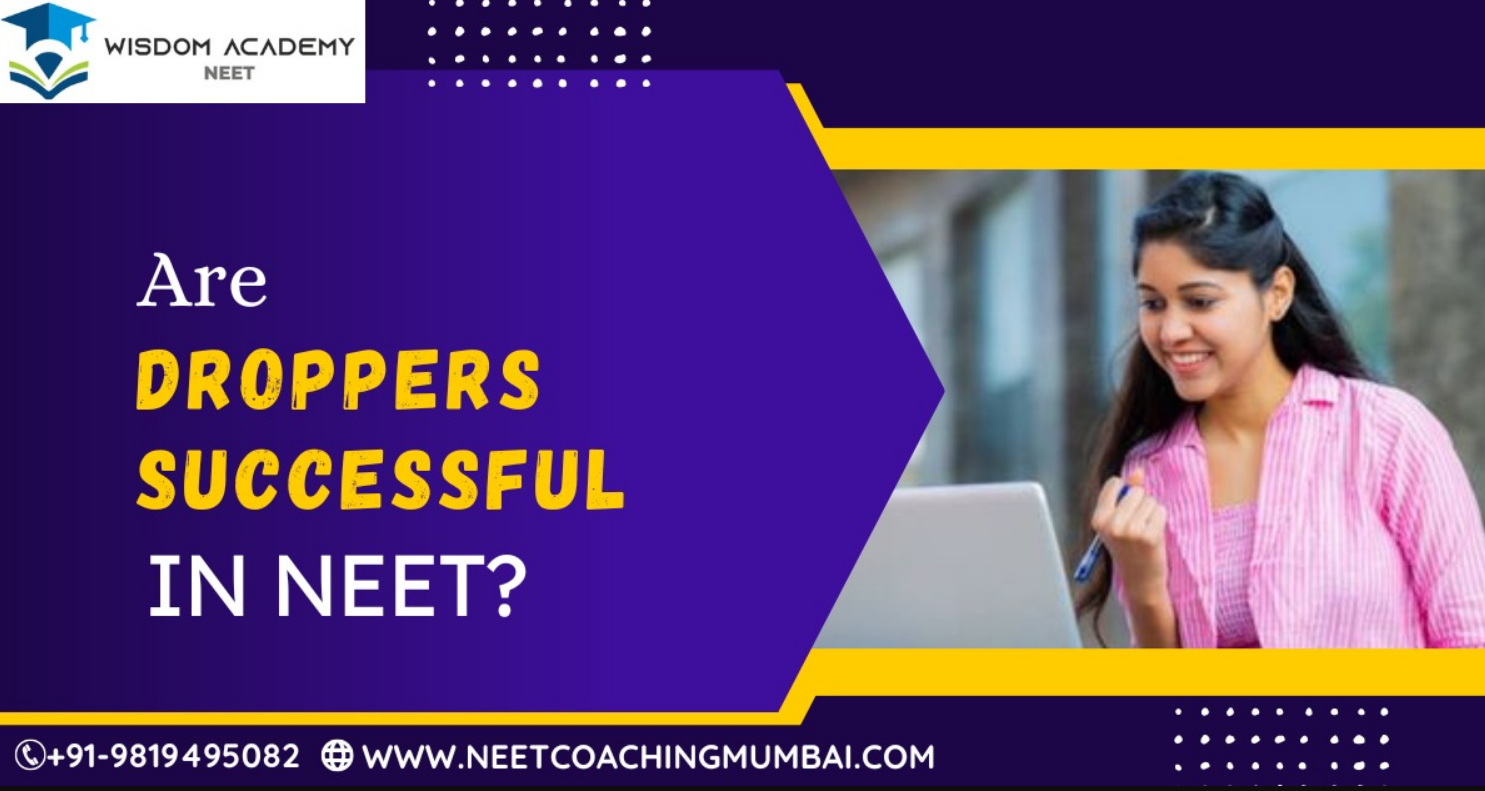 NEET
Wisdom Academy
May 12, 2023
0 Comments
The NEET (National Eligibility cum Entrance Test) is one of the most competitive exams in India. Every year, lakhs of students appear for this exam with the hope of getting admission into the country's top medical colleges. However, not all students manage to clear the exam on their first attempt. In such cases, many students opt to take a drop year and prepare for the exam again.
But the question arises, are droppers successful in NEET?
Before delving deeper into this question, let's first understand what a dropper is. In the context of NEET, a dropper is a student who takes a drop year after completing their 12th grade and prepares for the exam again. Droppers are usually students who were unable to clear the NEET on their first attempt or those who did not appear for the exam due to various reasons.
Now, coming back to the question at hand, are droppers successful in NEET? The answer is yes. Droppers have been known to perform exceptionally well in the NEET exam. In fact, many droppers have secured top ranks in the exam and gone on to pursue their dream of becoming a doctor.
One of the main reasons why droppers are successful in NEET is because they have a better understanding of the exam. Having already appeared for the exam once, droppers are well aware of the exam pattern, the type of questions asked, and the marking scheme. This gives them an edge over first-time aspirants who are still trying to figure out the exam.
Moreover, droppers have an entire year to prepare for the exam. This means that they can focus all their attention on preparing for the exam without any distractions. They can utilize this time to identify their weaknesses, work on them, and improve their overall performance. Additionally, droppers have the advantage of having more time to revise their syllabus, which is crucial in a competitive exam like NEET.
Another advantage that droppers have is the opportunity to join a coaching institute. Coaching institutes provide students with a structured learning environment, expert guidance, and regular assessments. Droppers can take advantage of these facilities and improve their performance.
However, it is important to note that success in NEET does not depend solely on taking a drop year. Success in NEET depends on various factors such as dedication, hard work, and perseverance. A dropper who is not dedicated to their preparation or lacks the necessary hard work may not succeed in the exam.
Furthermore, it is important to consider the mental and emotional toll that taking a drop year can have on a student. Many students feel demotivated or depressed when they are unable to clear the exam on their first attempt.
This can make it difficult for them to stay motivated and focused during their drop year. Hence, it is crucial for droppers to maintain a positive attitude and seek support from family and friends.
Advantages of Being a Dropper:
Experience: Droppers have already appeared for the exam once and have experience with the exam pattern and level of difficulty. This experience can prove to be very helpful in their second attempt.
Time: Dropping a year gives students more time to prepare for the exam. They can focus solely on their NEET preparation without any other distractions.
Improved preparation: Dropping a year gives students a chance to rectify their mistakes and improve their preparation. They can work on their weaknesses and improve their strengths.
Better Score: With more time and improved preparation, droppers have a higher chance of scoring better on their second attempt.
Tips for Droppers to Succeed in NEET:
Analyze your previous attempt: Before starting your preparation, analyze your previous attempt. Identify your weaknesses and strengths and work on them accordingly.
Proper planning: Make a proper plan and stick to it. Make sure to cover the entire syllabus and revise it multiple times.
Consistency: Consistency is key. Make sure to study regularly and revise regularly.
Practice: Practice as many mock tests and previous year papers as possible. This will help you improve your speed and accuracy.
Seek guidance: Seek guidance from experienced teachers or mentors. They can help you identify your mistakes and guide you in the right direction.
Final Thoughts
In conclusion, dropping a year and preparing again for NEET can be a good decision for students who are willing to put in the effort. With proper planning, hard work, and dedication, droppers can be successful in NEET and secure a seat in a top medical college.
However, it is important to remember that success in NEET depends on multiple factors, and dropping a year does not guarantee success.
One of the ways you can guarantee top preparation is by being enrolled in top-quality NEET classes.
With Wisdom Academy's assistance, a student will get comprehensive learning resources, advanced study apparatus, clearing sessions for any and every doubt, regular tests, mentoring, and much more, backed by a group of expert and utmost educated faculty members.