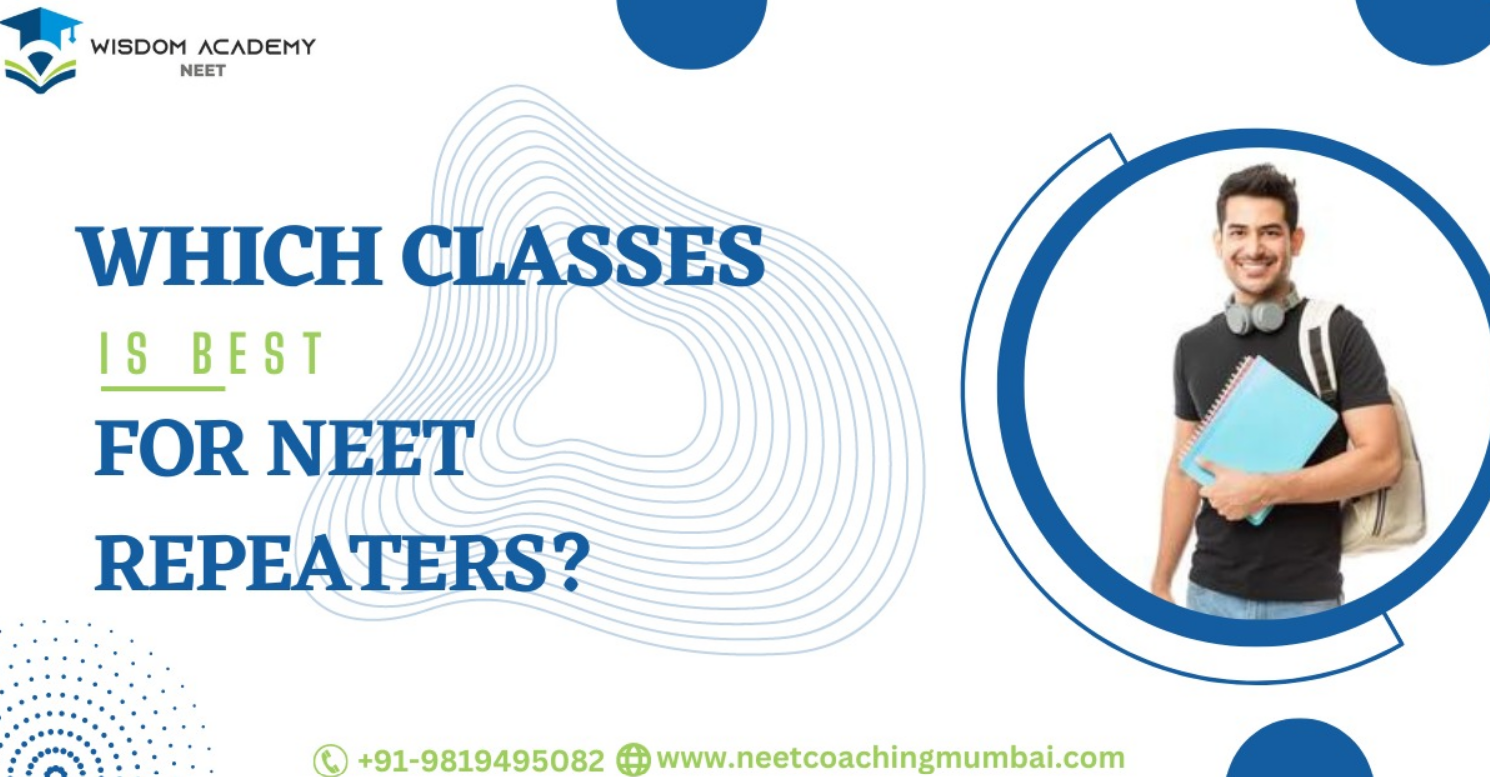 NEET
Wisdom Academy
May 11, 2023
0 Comments
For students who aspire to pursue medical education in India, NEET (National Eligibility cum Entrance Test) is the ultimate gateway to their dream careers.
However, it's not uncommon for students to appear for NEET multiple times to achieve their desired score and secure admission to a top medical college. NEET repeaters face unique challenges and require tailored coaching and guidance to improve their performance.
Choosing the right classes can make all the difference in their preparation. This blog post will explore the best classes for NEET repeaters, covering the key factors to consider and the top options available in the market.
In today's competitive world, finding the right mentor is crucial to succeed in NEET preparation. A knowledgeable guide who can assist you from the beginning and make your learning journey comfortable and exciting is essential.
With the right guidance, you can access high-quality course content and receive personalized guidance to fulfill your needs and unlock your full potential. It's important to have someone who can help you navigate the complex process of NEET preparation, provide valuable insights, and ensure you're well-prepared to ace the exam.
The Wisdom Academy is just the mentor you need.
In the present era, students face an immense challenge dealing with the cutthroat competition that prevails. This competition not only demands toughness but also necessitates significant effort in developing analytical thinking abilities, logical reasoning, and conceptual understanding, among other skills. Gone are the days when mere rote learning could guarantee success in any competitive exam.
Students tend to be more focused during NEET preparation classes in a physical classroom environment as opposed to studying from home.
This is due to the fact that classroom settings are structured to foster greater interaction between teachers and students, resulting in higher engagement levels.
Every year, a large number of aspirants appear for NEET, and it's essential to plan a schedule that ensures a high score. Under the pressure of the exam, many students wonder how much time they should spend studying for NEET. Ideally, students should aim for 11 to 13 hours of daily preparation for the exam. However, with a well-designed study plan, it's possible to reduce these hours.
In light of these circumstances, enrolling in a reputable institution such as the Wisdom Academy can serve as a catalyst for your journey toward success. It sets the stage for a well-directed and fruitful effort, right from the outset.
Students are drawn to the Wisdom Academy primarily due to its highly trained and expert tutors, who not only facilitate but also enhance the learning process, making it considerably easier and enjoyable.
Their deep understanding of the requirements to crack tough and fiercely competitive exams like the NEET enables them to guide students with effective strategic planning and the provision of top-quality tutoring. Furthermore, the tutors are exceptionally supportive and approachable, always ready to address any doubts or queries that may arise.
It is crucial to choose the right coaching institute when preparing for competitive exams such as NEET.
The Wisdom Academy is one such institute that has helped numerous students achieve their dreams.
Here are some reasons why you should choose the Wisdom Academy.
Firstly, they pay great attention to each student's individual requirements and tailor their teaching methods accordingly. Interactive learning sessions are emphasized, encouraging students to participate in discussions and engage with their teachers.
Secondly, the Academy places emphasis on time management skills and accuracy, recognizing the importance of these skills in cracking the exam. Conceptual understanding is also prioritized over rote learning.
Thirdly, the Academy conducts regular assessments through mock tests to gauge each student's progress and identify areas that need improvement. This feedback helps students learn from their mistakes and track their progress.
Fourthly, the Academy provides excellent quality notes to aid revision and memorization. They also focus on extensive practice sessions to ensure that students are well-prepared for the exam.
Fifthly, the Academy constantly motivates and boosts the morale of its students, giving them the necessary confidence to perform well. They help students stay on track with their preparation and complete the vast syllabus on time.
Ultimately, the Academy's goal is to train students to give their best and achieve their goals with ease and confidence. By choosing the Wisdom Academy, you are giving yourself the best chance to excel in your NEETs.
The Wisdom Academy has been preparing NEET students for a considerable amount of time. Their extensive experience and expertise in this field make them the best choice for any aspiring NEET candidate.
With their commitment to providing individualized attention to each student, you will surely benefit from their vast exposure to the field. At the Wisdom Academy, you can expect to make significant progress in your NEET preparation with ease and confidence like no other place.