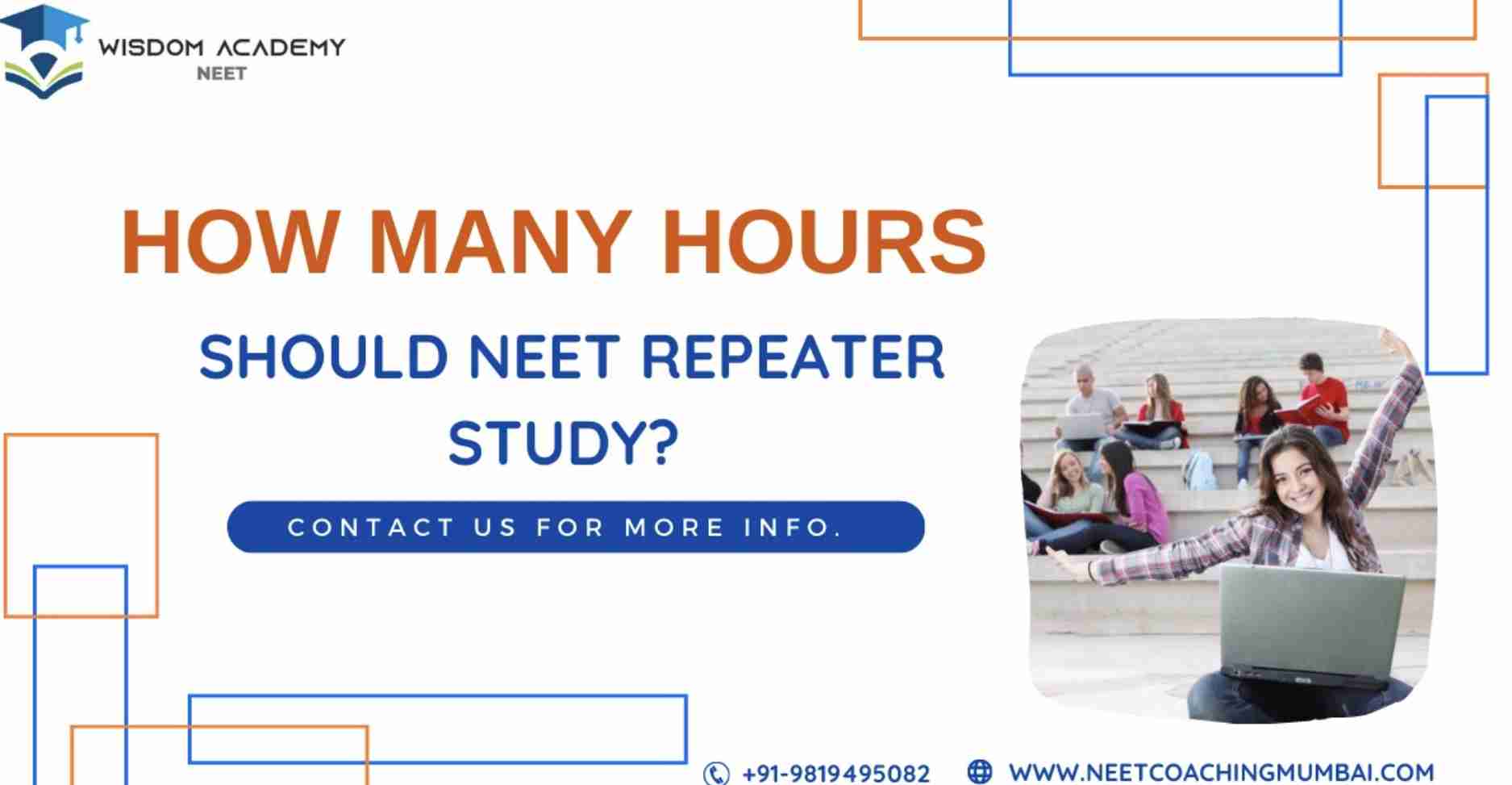 Uncategorized
Wisdom Academy
May 15, 2023
0 Comments
As a NEET repeater, it is obvious to be worried about your preparation strategy this time. You want everything to be in place, right from changing your strategy, looking into your past mistakes, and even rethinking your study material. 
You don't want to leave any stone unturned.
Fret not! We have got you covered. Your apprehension is right in its place. And therefore, in this blog, we will help you understand the various nuances of preparing for the NEETs and succeeding in your attempt no matter what.
How to study for NEET exams as a repeater?
There are several things that you would need to look into, especially learning about where you went wrong in your previous attempt. At least now you have a closer perspective of the actual exam and therefore you would have more confidence in preparing successfully for the NEETs.
Here are a few important things that you need to remember while preparing for the NEETs as a repeater.
Analyzing your mistakes and weaknesses
As a repeater, since you know what made you fail in your previous attempt, now you can focus on working on those areas of improvement. You should start analyzing your mistakes, note what went wrong and then focus on those weaker sections to prepare holistically.
Create a new study strategy and prepare a new timetable
Also, creating a new strategy learning from your past shortcomings, would help you immensely to emerge successful in your next attempt.
It is also highly recommended that you prepare a new timetable that would cover everything from covering the topics, revision and even practising your knowledge through solving MCQs, all this on a daily basis.
How many hours to study as a NEET repeater?
Well, this is one of the most important questions that haunt all the repeaters of NEET owing to their past experience. However, it entirely depends upon your individual learning capabilities and grasping power.
But then, as a repeater, you should invest at least 7-8 hours minimum in studying rigorously for all three subjects, paying equal attention to each. However, you can even extend it, keeping in mind the necessary breaks as it would help you memorize better and focus efficiently.
Practice your skills
Practising your skills on a daily basis is equally important as it would help you learn the concepts and remember them efficiently. You can even solve MCQs from previous years' question papers that would give you a clear idea of the exam and what you can expect in the same.
Also, immense practice can increase your confidence on solving all the papers in the actual exam and help you succeed no matter what.
Focus more on conceptual understanding and clarity of concepts
Conceptual understanding plays a very vital role in succeeding at the NEET exams. You need to forget rote learning and try to emphasize more on clarity of concepts and getting your doubts solved from experts who can really help you out of your problems and not let you remain stuck at any topic or concept.
Learn Time Management
As much as accuracy is important, it is equally important to focus on your time management skills as that is the key to success at the NEET exams. You can do so by simply practicing your skills immensely with the help of regular mock tests that would help you gauge your performance regularly and work on your mistakes and weaker sections effectively and stay consistent in your effort.
Join a reputed coaching institute
Now, apart from all these points, as a repeater the one thing that can help you immensely is having someone to guide you in the right direction, taking you through all the concepts like an expert with their extensive experience and expertise of the subjects.
Therefore it is highly recommended that you join a good and highly renowned and reputed institute like the Wisdom Academy which ensures a holistic approach to studying and preparing for the NEET exams.
In fact, the faculty at Wisdom Academy is one of the best and highly talented one and have a track record of churning out all successful candidates in the NEET exams with their complete guidance.
They also conduct regular mock tests to help students evaluate their knowledge and help them improve on their skills and knowledge consistently.
However, the best part about joining them is that. they make sure to have very few students in one class and therefore make sure to focus on every student's individual progress that would help them improve on their knowledge.
Also, they make sure to help students achieve their dreams of cracking through the NEET exams and do everything in their capacity to score really high in the exams.